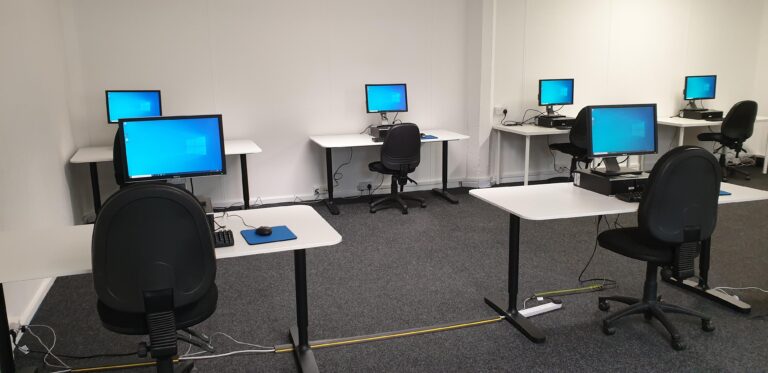 "This was a great help for what we needed to do.
Fantastic service thanks."
Simon Sheffield, Mark One Training
Certificate Renewals - Costco, February 2021
Exams and Other Events ...
Hosting professional exams
Exams - either PC or internet or paper based - is something that we have regularly hosted within our rooms for over six years. We have been delighted to host exams plus teams of invigilators for ACCA, Pearson Professional, CIPS, VICTVS, Global, amongst many other institutes, governing bodies and companies during this time.
"The rooms are bright and spacious, kept immaculately clean ... highly recommended for conferences and exams"
Ian Morrison, Freelance Invigilator, 2021
Please do get in touch as let us know what we may be able to help with - should you need to conduct exams in Glasgow.
Hosting hybrid events
Training via remote technology with a group of attendees all physically here together in-person in a Glasgow Training Centre (while trainer is somewhere else entirely). The group facilitator talks naturally with the group, who all, without the use of headsets, comfortably interact with each other and their trainer. Available at £295 + VAT per day, which includes in-room tea, coffee and biscuits. Like all our rooms, the group's training room features COVID-19 distancing and appropriate measures. Here however the trainer uses the room's two-way full duplex audio and/or display facilities to lead the class - usually via Teams, Zoom, or WebEx.
Event attendees can interact all-day with trainers who are working elsewhere - and the class can also be shown presentations, videos and guidance in a way that feels natural and unobtrusive. Classes are connected via our webcam equipped laptop PCs - along with an effective conference speaker and room microphone setup - working as an excellent replacement for any trainer actually needing to be in or travel to Glasgow. This means that through good use of technology, trainers can see all participants through individual webcams while hearing and discussing points with everyone in the group. All enabled with the help of our echo-cancelling Jabra 810 Conference Speakers when added to individual cameras and the excellent bandwidth of a superfast 500MB-each-way internet connection
As per all our bookings, onsite technical support is there if you need it. There is no requirement for anyone coming to be technically-minded or experienced with computers. These sessions are ideal for when tests or courses must be passed for certificates or licence qualification renewals courses, or when courses are for statutory requirements. Through pre-discussion we can organise behind-the-scenes sharing of invites so that individuals can simply turn up on the day and enter their display name and join the meeting. Neatly avoiding any potentially confidence-sapping setup, password or log-in issues. We currently support and host these events for groups of up to ten event attendees. Each has their own large desk and adjustable chair and all are facing each other while being appropriately spaced apart. Ask for dates availability.