Welcome to Glasgow Training Rooms
Looking for a good place in Glasgow to host training courses - or exams, meetings or video-conferencing?
Training Centre rooms for hire, located in Glasgow city centre. Ten full-service rooms, meeting rooms and IT suites rentable, for the day or for a bespoke period. Featuring comfortable delegate-distancing within a spacious, dedicated and professional training venue.
"All facilities and support were excellent. For COVID-19 the best I have experienced in the past year." Paul Childs, Aid Training & Operations / Pret A Manger June 2021
Training room hire within Glasgow Training Rooms means having quality presentation equipment and everything you need, ready to ensure your ideal session.
"Perfect for nine plus myself. Display TV was excellent. COVID-19 measures 5-star rating." Martin Hastie, MTS. Apr 2021
Every event is fully staff-supported yet signposted as your own. Everything takes place within a professional venue with an in-house café plus spacious communal seating areas. Each attendee benefits from the attentions of a subtle all-day hosting and technical support staff team, tasked with the smooth running of hosted events.
"Excellent Setup. Convenient Location with plenty of space for all." Giles Fox, training Police Scotland. Feb 2019
Facilities include general training rooms, IT classrooms and exam rooms that may be rented by the day (or by the week, by the month or any bespoke period). All rooms for hire have large-screen or projector-based presentation equipment and super-strong direct-to-internet connections that are directly managed by us. Smaller break-out rooms can be added to your bookings to allow splitting groups during the day, or for tests or exercises.
"Very good - great staff, equipment was superb and very professional." Alistair Moore, SSVC. Feb 2019
Included in each hire is a presentation or communications laptop and a large screen - to which you can alternatively connect your own laptop. Internet connections are professional class Wi-Fi (or wired ethernet on request). Speakerphones can be setup on request and Zoom / Teams / Webex forms of videoconferencing can be reflected on our large screens - and therefor viewable by all attendees. Alternatively - hiring two rooms also allows for viewing of calls, depositions or evidence by a group in a separate room.
"Proper training venue. Extremely well organised." Michael Freeman, FQM Ltd Jul 2016
We are a Glasgow company and for many years have provided services to large and small companies, public sector and charity organisations, along with training groups of many types. Our aim has always been to providing high-standard rooms which are intended to feel to all attendees just like your own well-equipped and staffed Glasgow facilities.
"Treated us like a colleague during our stay and not as a visitor." Lekan Omodara, PCworths & Data Associates. Nov 2018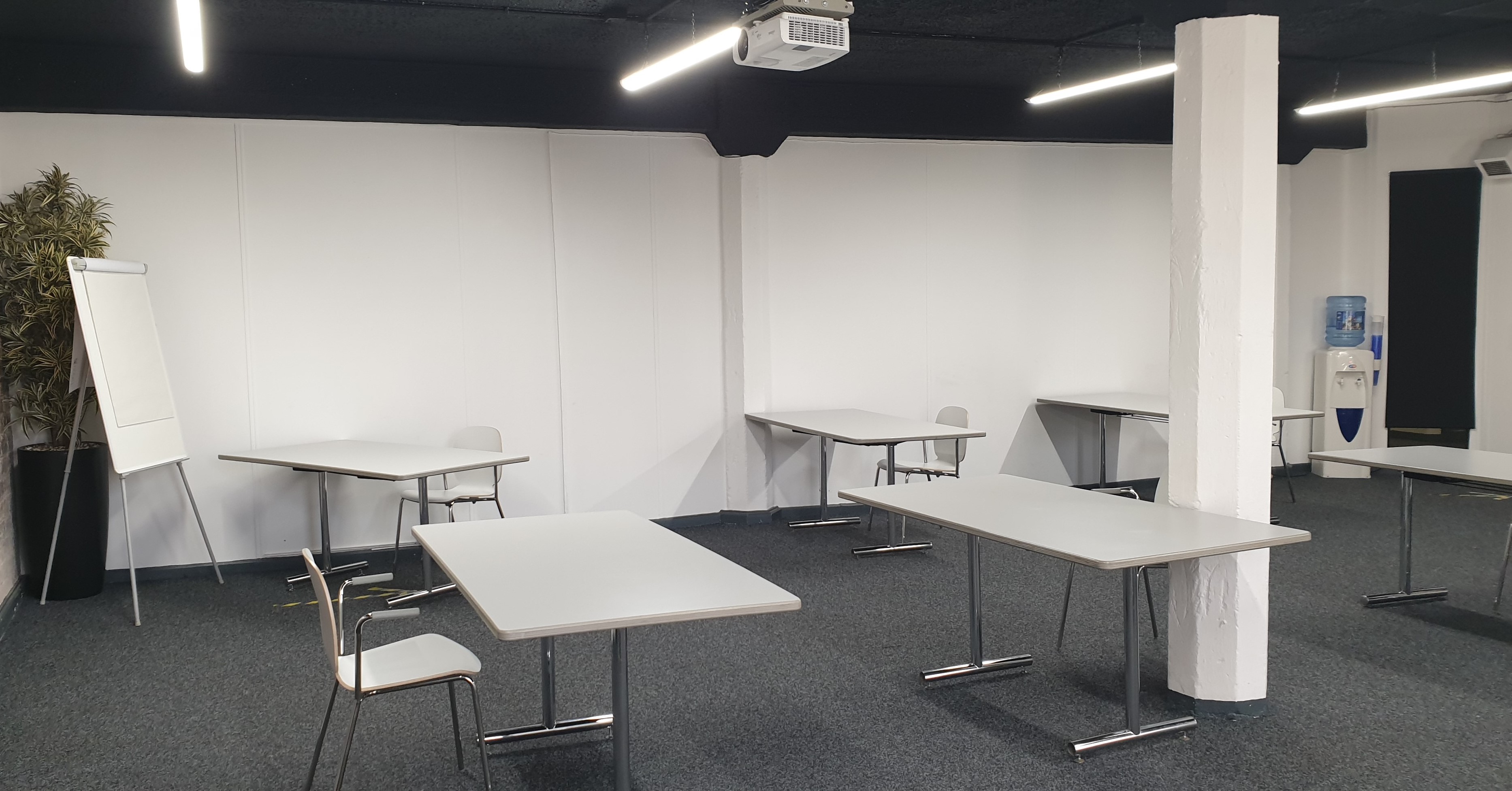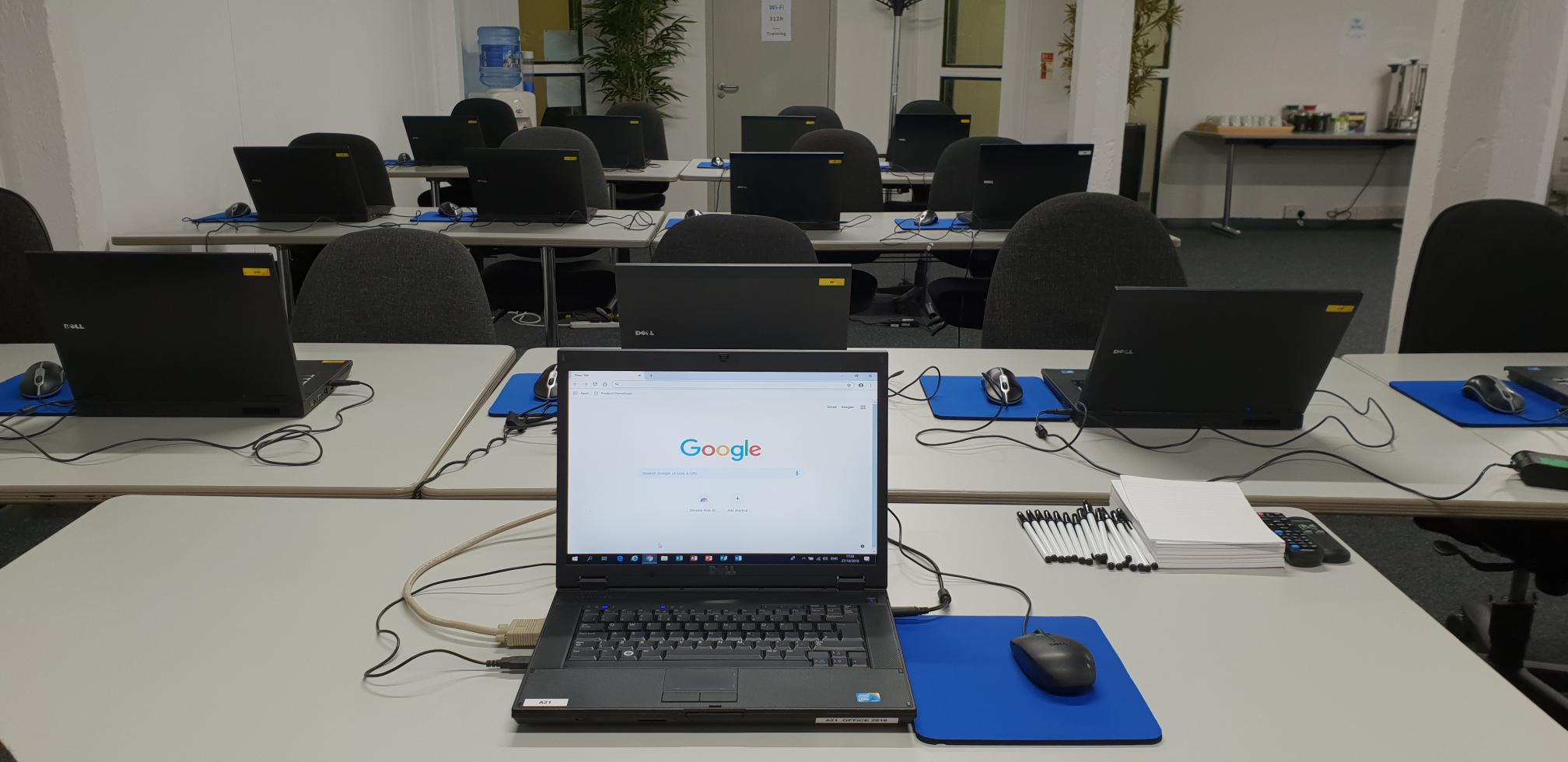 Training Rooms
Our training rooms are all well-furnished and fully-equipped with everything you need for a productive learning session. Rooms can accommodate 2-metre seated classes if required. On-site staff are available to ensure your event runs as comfortably as possible.
Each room comes standard with:
Large display screen (minimum 65", most 75")
Laptop for trainer
Flipchart & marker pens
Optional tea, coffee & refreshments
Strong 500 MB Wi-Fi Hyperoptic internet connection
Computer Rooms
Our IT suites offer business-class computers perfect for use in software and internet training courses and for PC based exams. Each computer is equipped with Windows, Microsoft Office when required, and super-fast Hyperoptic broadband. An IT specialist will always be on hand to help, plus computers can be set up with your own software in advance if requested.
Each room comes standard with:
Large 75" display screen
Laptops for all delegates
Flipchart & marker pens
Optional tea, coffee & refreshments
500 MB Hyperoptic internet connection - Wi-Fi or Ethernet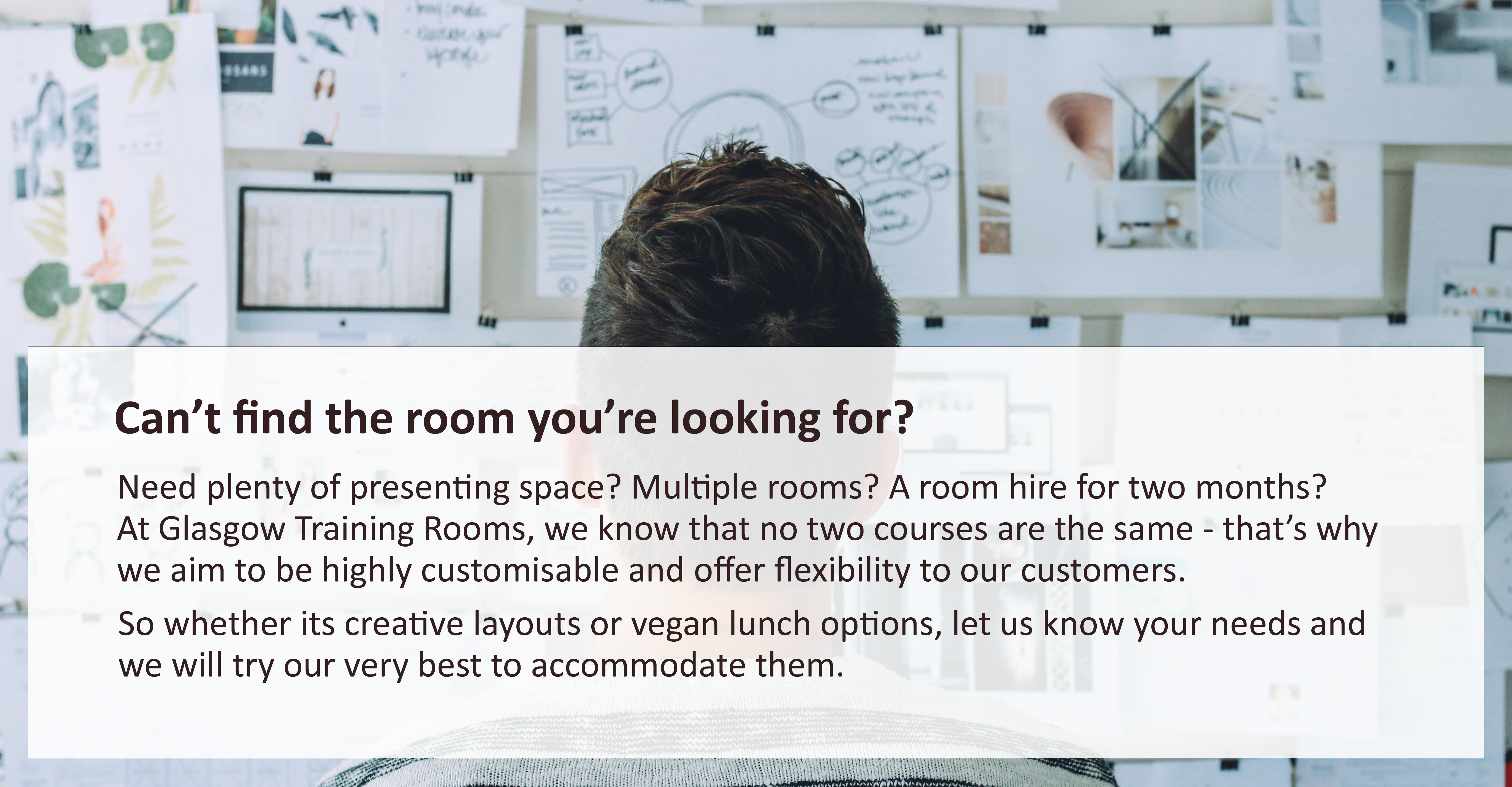 eyJpZCI6IjEyIiwibGFiZWwiOiJDb250YWN0IFVzIiwiYWN0aXZlIjoiMSIsIm9yaWdpbmFsX2lkIjoiMSIsInVuaXF1ZV9pZCI6IndlZmoyIiwicGFyYW1zIjp7ImVuYWJsZUZvck1lbWJlcnNoaXAiOiIwIiwidHBsIjp7IndpZHRoIjoiMTAwIiwid2lkdGhfbWVhc3VyZSI6IiUiLCJiZ190eXBlXzAiOiJjb2xvciIsImJnX2ltZ18wIjoiIiwiYmdfY29sb3JfMCI6IiNhYWFhYWEiLCJiZ190eXBlXzEiOiJjb2xvciIsImJnX2ltZ18xIjoiIiwiYmdfY29sb3JfMSI6IiMzMzMzMzMiLCJiZ190eXBlXzIiOiJjb2xvciIsImJnX2ltZ18yIjoiIiwiYmdfY29sb3JfMiI6IiMzMzMzMzMiLCJiZ190eXBlXzMiOiJjb2xvciIsImJnX2ltZ18zIjoiIiwiYmdfY29sb3JfMyI6IiMzMzMzMzMiLCJmaWVsZF9lcnJvcl9pbnZhbGlkIjoiIiwiZm9ybV9zZW50X21zZyI6IlRIQU5LIFlPVSAtICBXRSBXSUxMIEJFIElOIFRPVUNIIFNIT1JUTFkiLCJmb3JtX3NlbnRfbXNnX2NvbG9yIjoiI2MxNDAwMCIsImhpZGVfb25fc3VibWl0IjoiMSIsInJlZGlyZWN0X29uX3N1Ym1pdCI6IiIsInRlc3RfZW1haWwiOiJpYW4ubWNjYWxsdW1AZXRvcGlhdHJhaW5pbmcuY28udWsiLCJzYXZlX2NvbnRhY3RzIjoiMSIsImV4cF9kZWxpbSI6IjsiLCJmYl9jb252ZXJ0X2Jhc2UiOiIiLCJwdWJfcG9zdF90eXBlIjoicG9zdCIsInB1Yl9wb3N0X3N0YXR1cyI6InB1Ymxpc2giLCJyZWdfd3BfY3JlYXRlX3VzZXJfcm9sZSI6InN1YnNjcmliZXIiLCJmaWVsZF93cmFwcGVyIjoiPGRpdiBbZmllbGRfc2hlbGxfY2xhc3Nlc10gW2ZpZWxkX3NoZWxsX3N0eWxlc10+W2ZpZWxkXTxcL2Rpdj4ifSwiZmllbGRzIjpbeyJic19jbGFzc19pZCI6IjYiLCJuYW1lIjoibmFtZSIsImxhYmVsIjoiIiwicGxhY2Vob2xkZXIiOiJOYW1lIiwidmFsdWUiOiIiLCJodG1sIjoidGV4dCIsIm1hbmRhdG9yeSI6IjEiLCJtaW5fc2l6ZSI6IiIsIm1heF9zaXplIjoiIiwiYWRkX2NsYXNzZXMiOiIiLCJhZGRfc3R5bGVzIjoiIiwiYWRkX2F0dHIiOiIiLCJ2bl9vbmx5X251bWJlciI6IjAiLCJ2bl9vbmx5X2xldHRlcnMiOiIwIiwidm5fcGF0dGVybiI6IiJ9LHsiYnNfY2xhc3NfaWQiOiI2IiwibmFtZSI6Ik9yZ2FuaXNhdGlvbiIsImxhYmVsIjoiIiwicGxhY2Vob2xkZXIiOiJPcmdhbmlzYXRpb24gKGlmIGFwcGxpY2FibGUpIiwidmFsdWUiOiIiLCJ2YWx1ZV9wcmVzZXQiOiIiLCJodG1sIjoidGV4dCIsIm1hbmRhdG9yeSI6IjAiLCJtaW5fc2l6ZSI6IiIsIm1heF9zaXplIjoiIiwiYWRkX2NsYXNzZXMiOiIiLCJhZGRfc3R5bGVzIjoiIiwiYWRkX2F0dHIiOiIiLCJ2bl9vbmx5X251bWJlciI6IjAiLCJ2bl9vbmx5X2xldHRlcnMiOiIwIiwidm5fcGF0dGVybiI6IjAiLCJ2bl9lcXVhbCI6IiIsImljb25fY2xhc3MiOiIiLCJpY29uX3NpemUiOiIiLCJpY29uX2NvbG9yIjoiIn0seyJic19jbGFzc19pZCI6IjYiLCJuYW1lIjoiZW1haWwiLCJsYWJlbCI6IiIsInBsYWNlaG9sZGVyIjoiRW1haWwiLCJ2YWx1ZSI6IiIsImh0bWwiOiJlbWFpbCIsIm1hbmRhdG9yeSI6IjEiLCJtaW5fc2l6ZSI6IiIsIm1heF9zaXplIjoiIiwiYWRkX2NsYXNzZXMiOiIiLCJhZGRfc3R5bGVzIjoiIiwiYWRkX2F0dHIiOiIiLCJ2bl9vbmx5X251bWJlciI6IjAiLCJ2bl9vbmx5X2xldHRlcnMiOiIwIiwidm5fcGF0dGVybiI6IjAifSx7ImJzX2NsYXNzX2lkIjoiNiIsIm5hbWUiOiJUZWxlcGhvbmUiLCJsYWJlbCI6IiIsInBsYWNlaG9sZGVyIjoiVGVsZXBob25lIiwidmFsdWUiOiIiLCJ2YWx1ZV9wcmVzZXQiOiIiLCJodG1sIjoidGV4dCIsIm1hbmRhdG9yeSI6IjAiLCJtaW5fc2l6ZSI6IiIsIm1heF9zaXplIjoiIiwiYWRkX2NsYXNzZXMiOiIiLCJhZGRfc3R5bGVzIjoiIiwiYWRkX2F0dHIiOiIiLCJ2bl9vbmx5X251bWJlciI6IjAiLCJ2bl9vbmx5X2xldHRlcnMiOiIwIiwidm5fcGF0dGVybiI6IiIsInZuX2VxdWFsIjoiIiwiaWNvbl9jbGFzcyI6IiIsImljb25fc2l6ZSI6IiIsImljb25fY29sb3IiOiIifSx7ImJzX2NsYXNzX2lkIjoiMTIiLCJuYW1lIjoibWVzc2FnZSIsImxhYmVsIjoiIiwicGxhY2Vob2xkZXIiOiJIb3cgY2FuIHdlIGhlbHA/IChkYXRlcyArIG51bWJlciBvZiBwZW9wbGUpIiwidmFsdWUiOiIiLCJ2YWx1ZV9wcmVzZXQiOiIiLCJodG1sIjoidGV4dGFyZWEiLCJtYW5kYXRvcnkiOiIxIiwibWluX3NpemUiOiIiLCJtYXhfc2l6ZSI6IiIsImFkZF9jbGFzc2VzIjoiIiwiYWRkX3N0eWxlcyI6IiIsImFkZF9hdHRyIjoiIiwidm5fb25seV9udW1iZXIiOiIwIiwidm5fb25seV9sZXR0ZXJzIjoiMCIsInZuX3BhdHRlcm4iOiIwIiwidm5fZXF1YWwiOiIiLCJpY29uX2NsYXNzIjoiIiwiaWNvbl9zaXplIjoiIiwiaWNvbl9jb2xvciI6IiJ9LHsiYnNfY2xhc3NfaWQiOiIxMiIsIm5hbWUiOiJzZW5kIiwibGFiZWwiOiJTZW5kIiwiaHRtbCI6InN1Ym1pdCIsImFkZF9jbGFzc2VzIjoiIiwiYWRkX3N0eWxlcyI6IiIsImFkZF9hdHRyIjoiIn1dLCJvcHRzX2F0dHJzIjp7ImJnX251bWJlciI6IjQifX0sImltZ19wcmV2aWV3IjoiYmFzZS1jb250YWN0LmpwZyIsInZpZXdzIjoiODExNCIsInVuaXF1ZV92aWV3cyI6IjQ0NjIiLCJhY3Rpb25zIjoiMjA5Iiwic29ydF9vcmRlciI6IjEiLCJpc19wcm8iOiIwIiwiYWJfaWQiOiIwIiwiZGF0ZV9jcmVhdGVkIjoiMjAxNi0wNS0wMyAxNTowMTowMyIsImltZ19wcmV2aWV3X3VybCI6Imh0dHBzOlwvXC9zdXBzeXN0aWMtNDJkNy5reGNkbi5jb21cL19hc3NldHNcL2Zvcm1zXC9pbWdcL3ByZXZpZXdcL2Jhc2UtY29udGFjdC5qcGciLCJ2aWV3X2lkIjoiMTJfNTkwMDE5Iiwidmlld19odG1sX2lkIjoiY3NwRm9ybVNoZWxsXzEyXzU5MDAxOSIsImNvbm5lY3RfaGFzaCI6ImJjZGRjYTAzZjkzMTEwNjVlMzc3NjdmZTkxMDBhMGZlIn0=
enquiries@glasgowtrainingrooms.co.uk
0141 730 0026