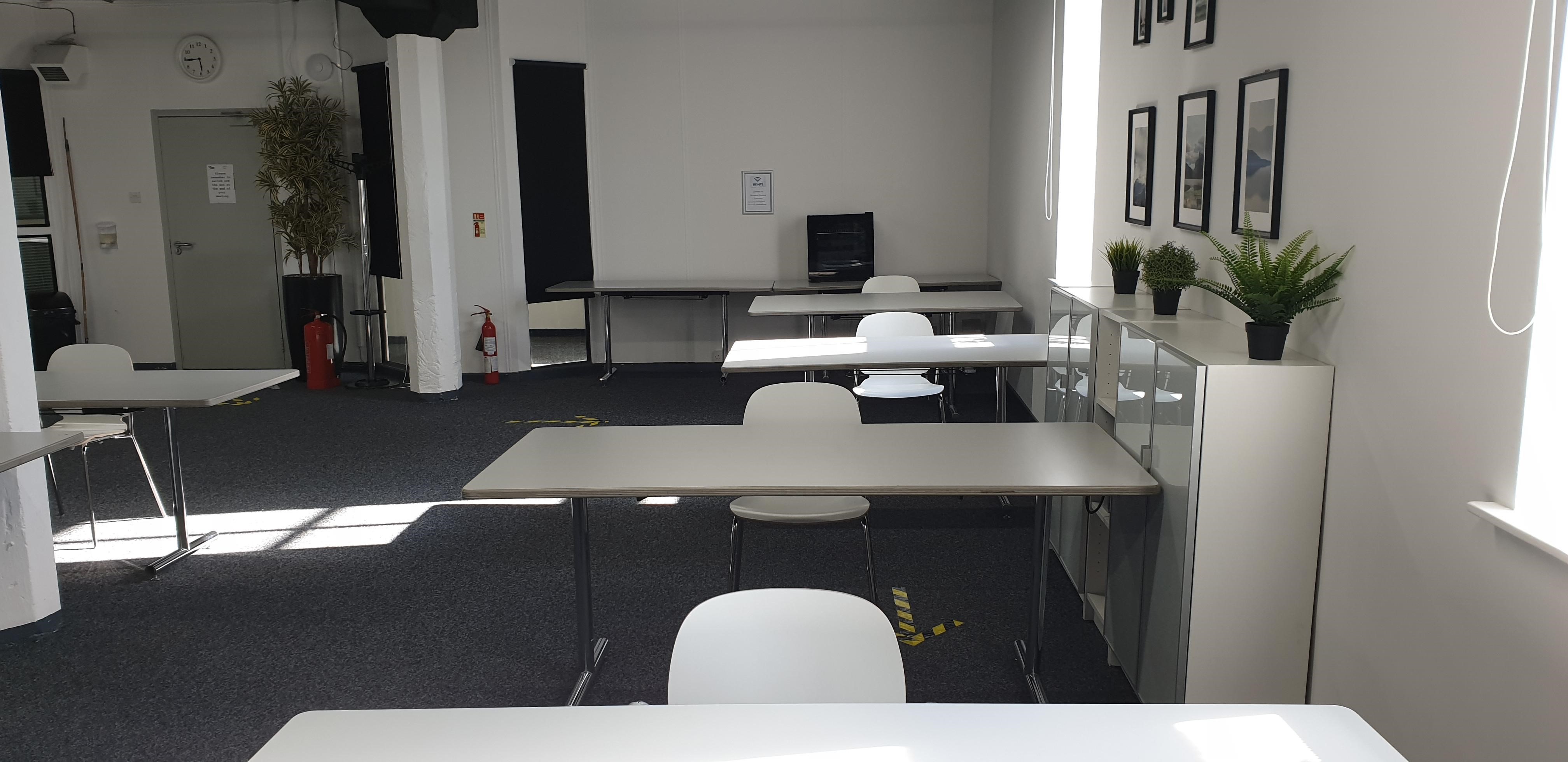 You train, we take care of the rest.
Projection facilities and laptop for facilitator with desk space for delegates
"This is by far the best training venue I've ever used. It has everything you need and the staff are so accommodating. It really makes running training so much more pleasant and enjoyable." Laura Parry, EIL UK, April 2019.
Our training rooms aim to provide a relaxed and well equipped learning space for classes ranging from small groups to a maximum of 10 COVID-spaced (2 metre +) trainees plus instructor, held in Glasgow's city centre. We know what really helps when running an effective training course, so our experienced staff are on hand to make sure your course runs smoothly and will help with any arising requests throughout the day.
"Many thanks for looking after us, the experience was great and the day went really well." Michael Duncan, LinkedIn Success Blueprint, 2017.
To ensure an organised and professional experience for you and your attendees - each room hired from us features:
On-hand dedicated staff throughout the entire day to provide assistance
Laptop and projector provided for the trainer
Free dedicated and strong Wi-Fi with 100MB Hyperoptic internet connection
Unlimited tea, coffee and refreshments
Flipchart and marker pens
Notepads and stationery
Storage for training materials
We can optionally also provide in-room conference call facilities with our Jabra Speak 810 speakerphones, which are available on request.
"Tremendous support, professional, friendly, flexible and showed genuine interest in accommodating me, participants and AGCAS" Tom Davie, training AGCAS , April 2019.
Under current pandemic circumstances, rooms are only available configured either exam-style, with people facing away from each other, or alternatively configured classroom-style - with everyone facing and focusing on presenter and screen. Your room will also have a window that opens and provides fresh air. All rooms for hire have large-screen or projector-based presentation equipment and super-strong direct-to-internet connections, which are directly managed by us. Smaller break-out rooms can be added to your bookings to allow splitting groups during the day or for tests or exercises.
Take it easy with our unlimited refreshments
Don't let thirst or hunger distract your attendees - each training room you hire is stocked up with refreshments. From drinks including tea, coffee, water and fruit cordial, to snacks such as mints and biscuits, we ensure you stay topped up throughout the day so you can focus on your training.

Treat yourself with a well earned buffet
Training courses can be hard work, so make sure to stop and reward everyone with our deliciously fresh buffet. This optional lunch comes with a varied selection of freshly prepared sandwiches, crisps, cakes, soft drinks and fruit - all served in your training room. We also alternatively offer vouchers for the in-house café.
Specific dietary requirements can be catered for - just let us know in advance of the day.