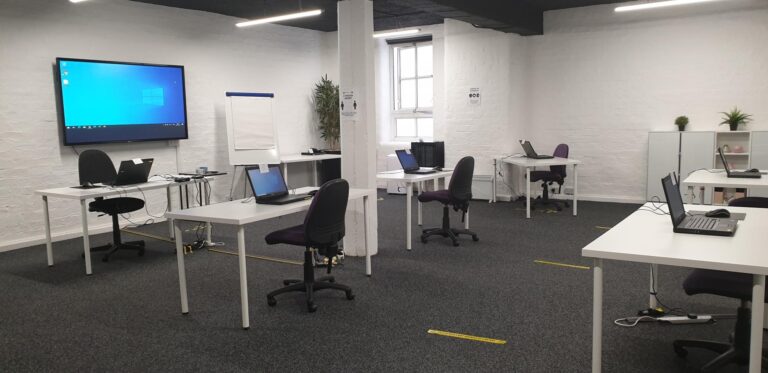 "The whole service was 100% good, the equipment and the internet connection were very good; the staff were helpful and friendly, the room had everything we needed."
Magaly Bascones, Jisc
Computer training suites - desktops or laptops with fast internet
Internet and software training rooms are well suited for training applications, online access courses, business software and PC-based exams.
"Great space. Thanks - awesome service." Todd Madar, Accruent - training NHS staff
Each laptop or desktop we provide is carefully sanitised in advance and has Microsoft Windows and Office. If you are training your own software we can install the programs needed in advance (30 mins pre-event install support time free with every event - if complex, please ask) . All PCs are connected through the room's dedicated direct-to-internet connection with strong Wi-Fi or ethernet connection. Our experienced and proactive hospitality, cleansing and IT support staff are available - before, during and after every hire to ensure your session runs as smoothly as possible.
"Great technical support and we were very well looked after. Had a great time and are looking forward to coming back." Alison Goring, BECTU Vision
The following are also included in our IT Suite package:
Laptop or desktop PC for all participants
Laptop and 75" display screen provided for the trainer
Strong internet connections via main (500MB) and backup (150 MB) synchronous connections
Unlimited tea, coffee and refreshments
On-hand staff throughout the entire day to provide assistance if required
Flipchart and marker pens
Storage for training materials
Although our rooms are typically set up in a classroom or exam configuration, we aim to be flexible and can often accommodate other format requests too.